---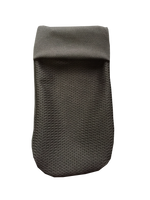 Black - Classic Without Hole.
A completely black Joey.
All Joeys are handmade by LGBTQ people in Canada who are paid a fair wage.
Cotton front, poly-cotton lining

Moisture-wicking, antimicrobial polyester back

Locking head pin (nickel and plastic)

Instead of a hole, Solid Joeys have an inner (mesh) liner for added structure and stability

Machine wash cold, tumble dry (remove pin before laundering)

Dimensions (approximate since Joeys are not factory-made)
Classic Joeys work well with packers that have an average shaft (1.5"-2" diameter), balls smaller than 2" (measured from the bottom of the shaft to the base of the packer),
Some packers are prone to colour transfer.  This will not affect function at all. Wash your Joey before packing. Trans Shop UK is not responsible for wear on packers.
WE DO NOT accept returns, exchanges or provide refunds on this product unless there is a fault with the product or it is unopened and unused.